Hi
I have sccm 2012 sp1 with endpoint protection role.
All update seems to fail because SCCM would update my client with old definition, so client reports this error: The software change returned error code 0x87D00668(-2016410008).
If I go to to Monitoriong->Deployments->My Automatic Deployment Rule, it show: errorcode: 0x87d00668 Software update still detected as actionable after apply.
Can you please help me to resolve my issues?
This is my Software Update Group:

This is my Endpoint Protection Client Status: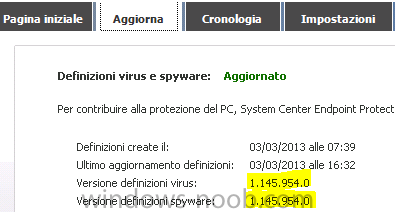 This is my Software Center Client Advertise:

As you can see Endpoint Protection client update status is 1.145.954.0, but client advertise previous version (1.145.927.0, 1.145.940.0) and current version (1.145.954.0 current installed), even if in Software Update Group all updates seems not required.
Thanks to all!