I have a GPO containing User and Computer settings. It is 'enabled' in the Details tab and 'Authenticated Users' was added under the Delegation tab.  It is linked to the proper OU's and the Security Filtering contains the group containing members needing the GPO. Also for added measure, Domain Computers was added in the Delegation Tab. However, the policy is not applying, even with a reboot, and I HAVE given it adequate time to replicate.
When I run a GPUPDATE /Force and then a GPRESULT /r from the command line on my test workstation, logged in as my Domain Admin account, the policy does not show up and does not appear in the HTML file when I create it using GPRESULT.  This machine is in an OU for which the GPO is applied. 
When I run the GPO Modeling Wizard, the policy shows up as Denied... Access Denied (Security Filtering)  See attached screen shot. How do I get this policy to apply the the computer and associated user when policy refreshes.  
I've attached two screen shots:The results of the modeling wizard:
and the RSOP run from 'elevated' command line: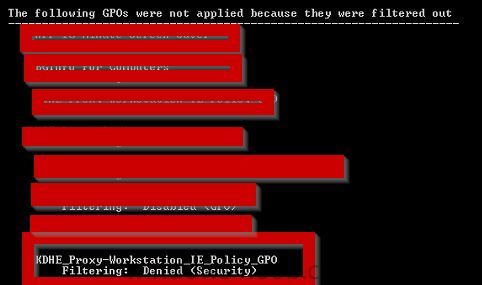 This is time sensitive. I'm needing input as soon as reasonably possible. Thanks in advance for your input.
Thanks,
Dino