Normally you would want to automate building your reference image using Configuration Manager or MDT or a mixture of both. So if for example you want to capture a reference image you could do so using a fully automated Build and Capture task sequence in System Center 2012 R2 Configuration Manager.
In this post however, I'll explain how you can capture an image manually and Configuration Manager 2012 provides a method of doing just that called Capture Media. This media is created as an ISO file which you burn directly to CD/DVD or mount in a virtual machine and use. But first you need to make sure that the image you want to capture is in the right state, listed below
In order for the image to be captured the computer must be a member of a Workgroup, In other words, the machine you want to capture the image from must not be joined to a domain.
Tip: It's recommended that you build your master image without joining a domain as domain join can impact an image and make troubleshooting problems that occur later on, harder. Settings get applied when you join a domain, such as Group Policies are set, software may be installed, registry keys might be changed. Keeping a computer off the domain before capturing it, eliminates these and other potential issues.
I'd recommend you use Virtual Machines (Hyperv, Vmware Workstation) or whatever virtual software you like to create the 'image' you want to capture.
Step 1. Create the Capture Media

Perform the following on the Configuration Manager server as a SMSadmin.

Open the ConfigMgr console, click on Software Library, Operating Systems, expand Task Sequences. In the ribbon click on Create Task Sequence Media




when the Create Task Sequence Media wizard appears click on Capture Media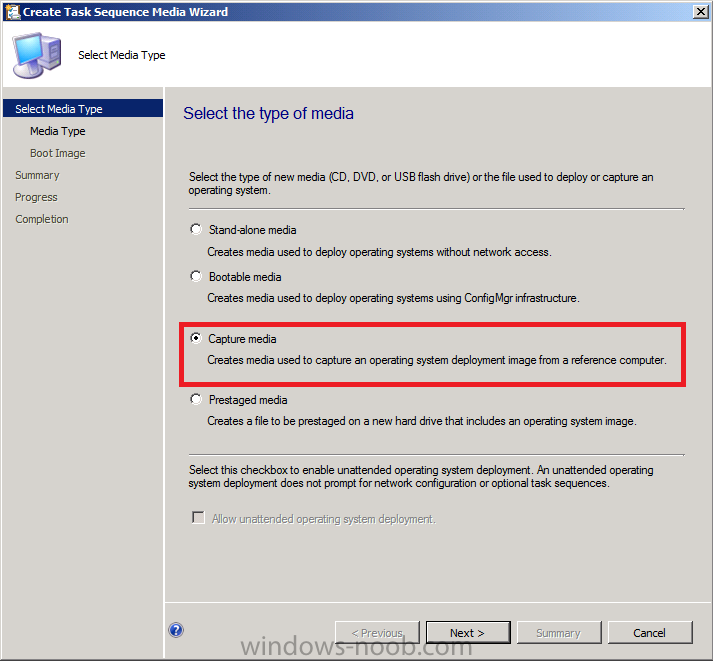 click next and browse to the path of where you want to store the ISO file, give it a name like capture_media.iso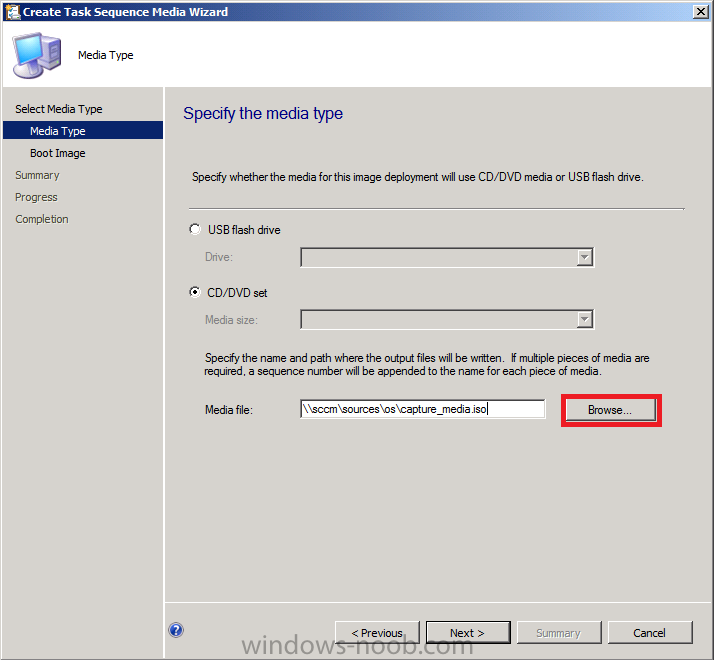 click next, then click on browse beside boot image




select your X86 boot image
Note: if you are trying to capture x64 UEFI hardware such as the Microsoft Surface Pro 3, you must use a x64 boot wim.




click ok, then click on Browse beside Distribution Point




select your distribution point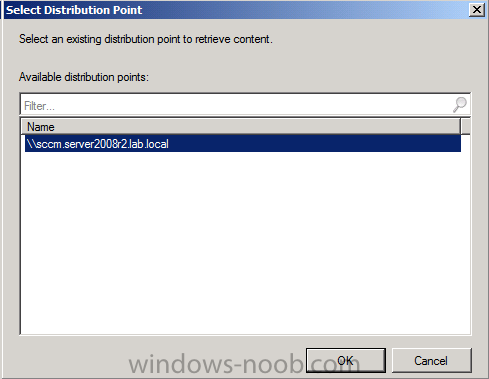 now your selected boot image and distribution point are listed, click next to continue through the wizard




if you get a UAC prompt accept it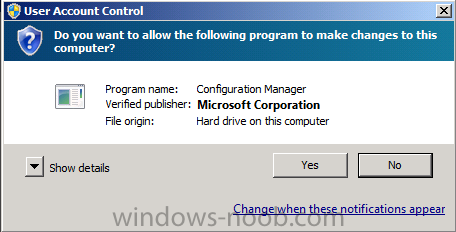 finally the media is done !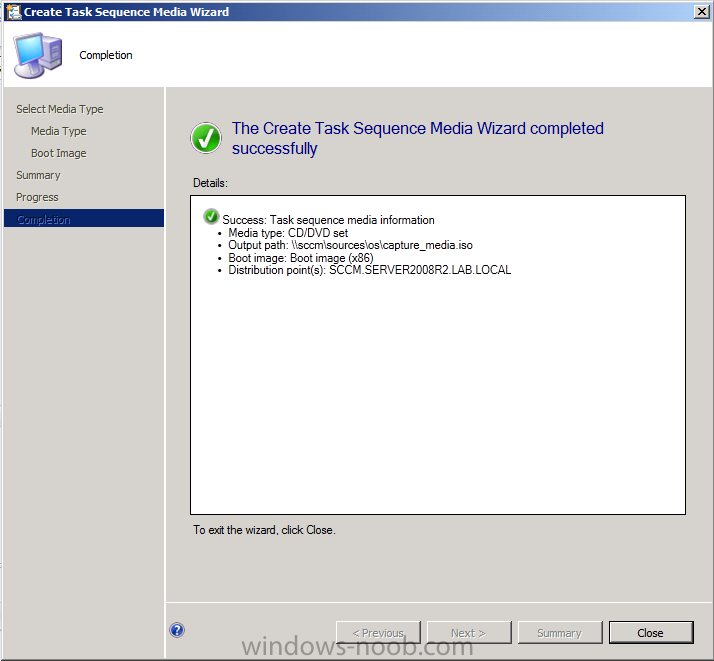 if you need to troubleshoot it's creation look at the CreateTSMedia.log file in your confmgr LOGS dir. (D:\Program Files\Microsoft Configuration Manager\AdminConsole\AdminUILog)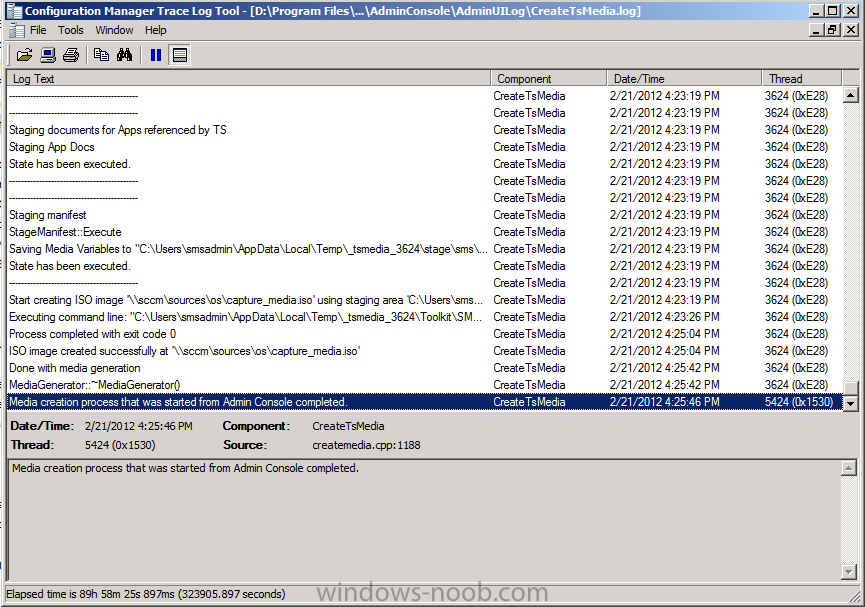 Step 2. Remove the Configuration Manager client if installed
Run

Ccmsetup.exe /uninstall 
from the C:\Windows\CCMsetup folder, you can monitor the CCMSetup.log file to verify it uninstalls successfully as shown below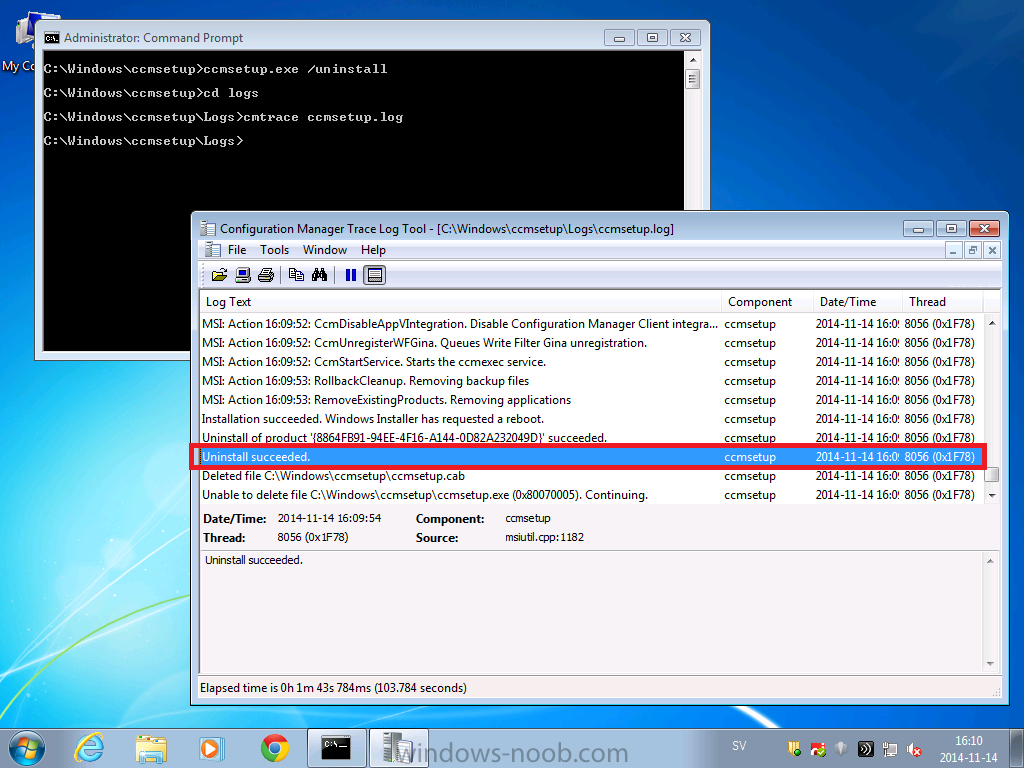 Once done remove the following:-
delete any logs and files left behind in the ccmsetup and ccm folders
delete c:\windows\smscfg.ini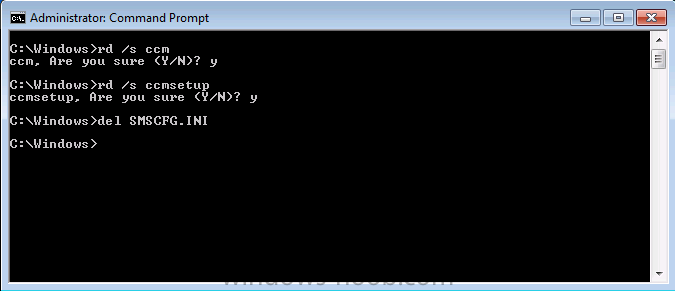 delete the two SMS certs for the local computer in CertMgr.Msc

Step 3. While in Windows, start the ISO/CD/DVD on the Workgroup Computer

Perform the following on the computer which you want to capture an image of as a local administrator.

if you are using virtual hardware (hyperv or vmware) just mount the ISO on your workgroup computer (click on Media, Insert Disc, browse to the ISO location), otherwise burn the ISO to cd/dvd and insert that burned cd/dvd into the computer you need to capture.

While still in Windows (do not try to boot from this ISO/CD/DVD) you should see the following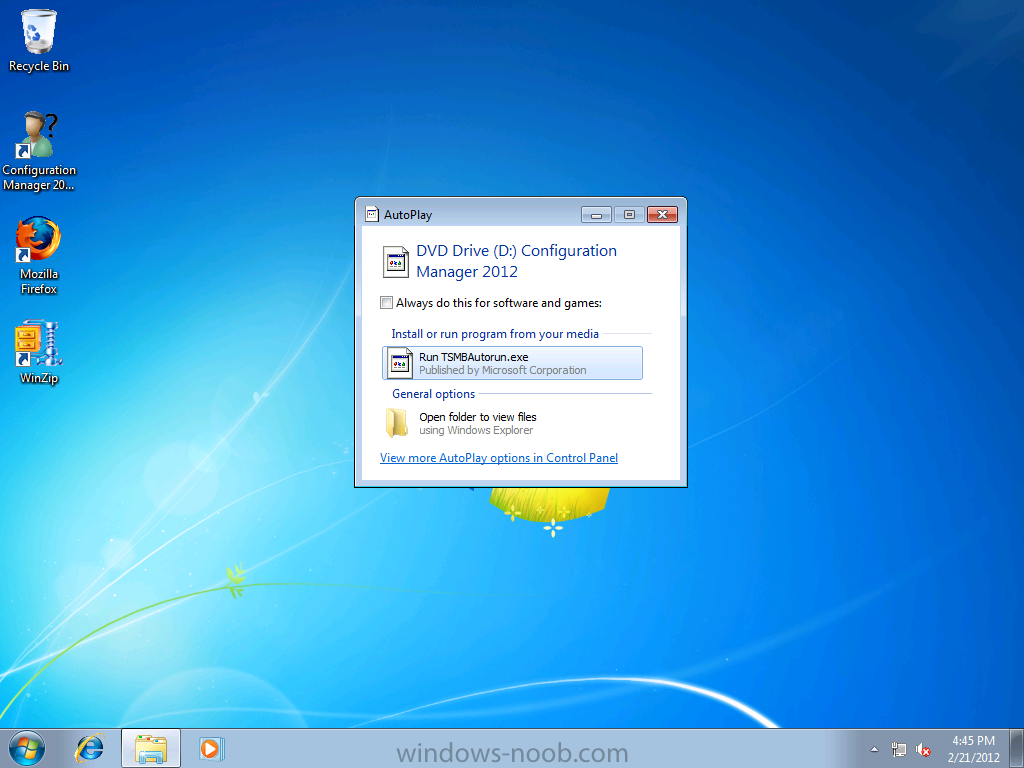 click on Run TSMBAutorun.exe

Welcome to the Image Capture Wizard appears, click next..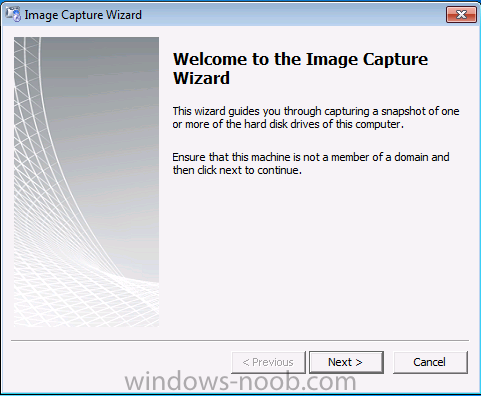 Enter a path and name for the WIM file, I chose \\sccm\sources\os\captures\captured.wim and then enter the credentials of a user with permissions to write to that location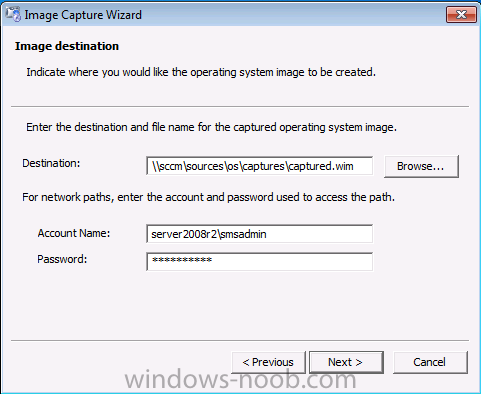 enter some Image Information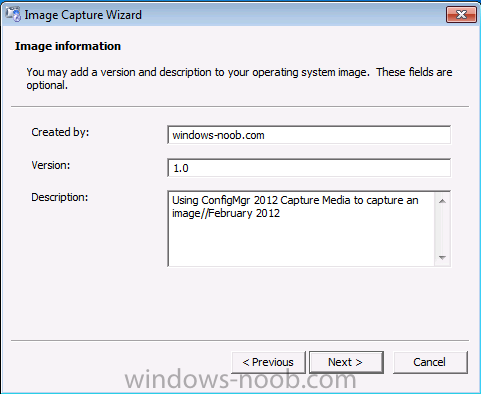 review the summary




and click finish to start the capture process, notice how it prepares the config manager client




and then it syspreps




before rebooting into Windows PE to capture the system




and the capture begins !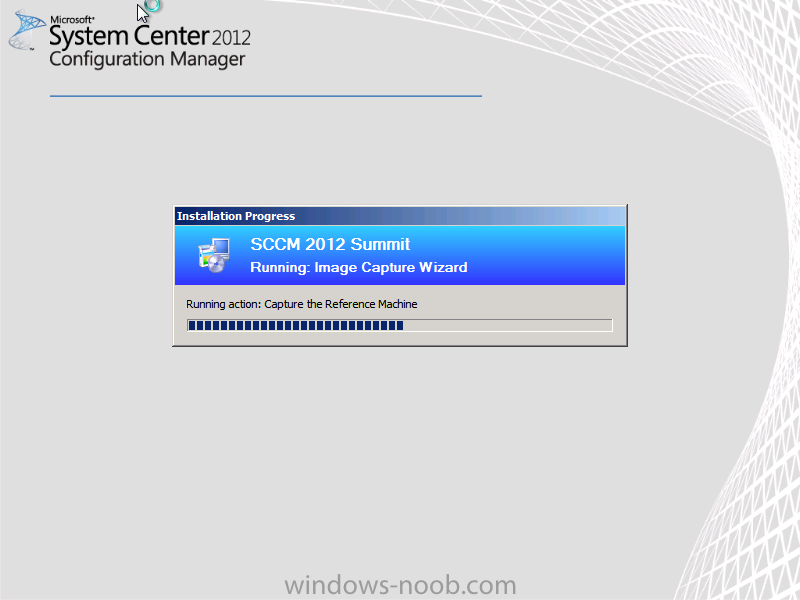 success !




all done, the image is captured.


Troubleshooting Tips:
If there is no CCM client installed, check for the SMSTS.log file in C:\Users\Administrator\AppData\Local\Temp\
If you have the CCM client installed and you see an error in SMSTS.log (probably in C:\Windows\CCM\Logs or C:\Windows\SysWow64\CCM\logs) which sates Waiting for CCMExec service to be fully available, locate the SMS Agent Host service in services.msc and start the service.
If you get the following error after inputting the Capture path and Network credentials "The network location cannot be reached. For information about network troubleshooting, see Windows Help. (Error: 800704CF; Source: Windows)" then verify you entered the credentials correctly, in addition you can test mapping a network drive using the same path and same credentials, if it fails, reboot the computer and try the wizard again