In this guide I assume that you have installed and configured SCCM and have it all working ok. This guide assumes that you have installed another Server running Windows Server 2008 and that it is joined to the same domain that SCCM is joined to.
Note: The Remote SUP can handle connections from up to 25,000 client computers. If there are more client computers you can
configure the active SUP to use an NLB cluster
which can handle connections up to 100,000 computers.
Step 1. install IIS 7.0 on your WSUS server
Start the
Server Manager
(click Start, click Run, and then type CompMgmtLauncher).
In the tree view, select Roles, then in the Roles pane click
Add Roles
.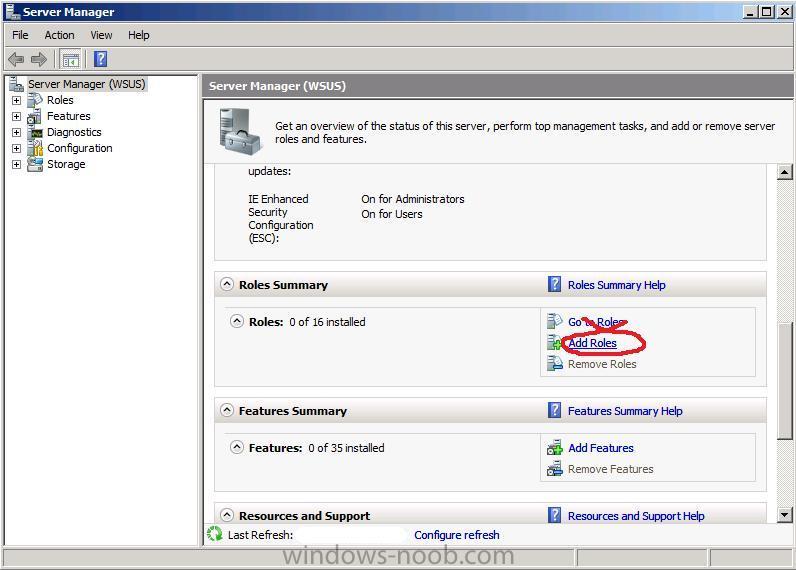 In the Add Roles Wizard, click Select Server Roles, select the
Web Service (IIS)
check box, click Next, and then click Next again. You may see a message box
Add features required for Web Server (IIS)?
Click
Add Required Features
.
In the
Select Role Services
window, make sure that the following services are selected:
* Common HTTP Features (including Static Content)
* ASP.NET, ISAPI Extensions, and ISAPI Features (under Application Development)
* Windows Authentication (under Security)
* IIS Metabase Compatibility (under Management Tools, expand IIS 6 Management Compatibility)
Click
Next
, and then review your selections. Click
Install
, and finally click
Close
when done.
Note: you can also review
Technets Page
on configuring IIS for WSUS.