Please note that this guide is designed to get you Deploying Windows XP with SCCM in a LAB Environment as quickly as possible. This guide is provided as is, if you find any errors please report them in the forums.
In a production environment please consult Technet for best practise, see below links:
Operating System Deployment:
Operating System Deployment in Configuration Manager
Overview of Operating System Deployment
Configuration:
System Center Configuration Manager 2007
Best Practices:
Configuring Configuration Manager Sites for Best Performance
Checklist for Security Best Practices
Best Practices for Central and Primary Site Hardware and Software Configuration
Best Practices for Operating System Deployment
This guide assumes you have installed SCCM 2007 SP1 and then configured it as outlined here in Part 1 you must then do the additional configuration outlined in Part 2, and you must have completed the final configuration tasks in Part 3. Lastly you must be able to deploy an application using SCCM 2007
and you should have reviewed part one and part two of
Deploying Windows Vista
, which covers setting up the PXE Service point.
Note: In this guide I've used the en_windows_xp_professional_with_service_pack_3_x86_cd_x14-80428.iso available on MSDN, this is the Retail version of XP, you should really use the VL (Volume License edition) in conjunction with your VL key to deploy XP.
Note: This Deploy XP guide will create a build image of Windows XP using the XP cd mentioned above. Once the image is created we will Capture the image. This whole process is known as 'Build and Capture'. The captured image can then be used in a separate task sequence to Deploy XP.
Import XP SP3 as an Operating System Install Package
In the
Operating System Deployment
node of ConfigMgr, right click on
Operating System Install Packages
and choose
Add Operating System Install Package
.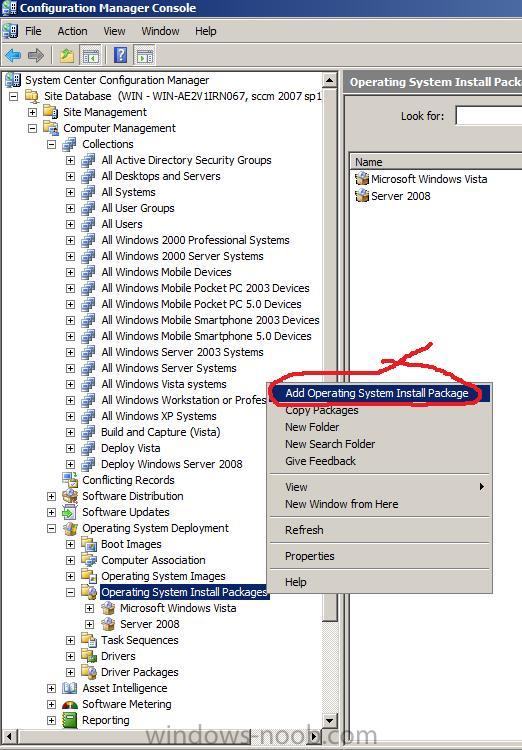 click on
browse
and browse to the network share where you have previously copied the XP SP3 CD contents to... (in my case that's \\WIN-AE2V1IRN067\iso\Xp sp3 retail)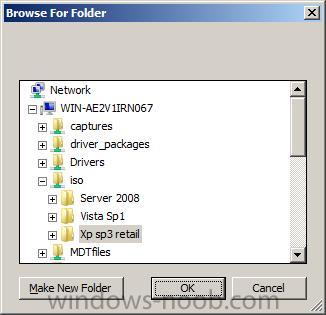 once you have the Data Source correctly specified, click next
on the
General
Page fill in some details about this XP SP3 image...
review the summary, click next and click
close
at the confirmation screen.