Note: If you already have an Active Directory setup and configured DNS then skip to Step 2 (Setup DHCP). If you have already configured AD, DNS and DHCP then please skip to Step 3 (Add the WDS role).
This guide assumes that you have first of all installed
Windows 2008 server
on your machine and partitioned it as c: (Operating system) and d: (data), note that you can change the partitions after the installation of Windows 2008 server by using disk management and right clicking on a disk and choosing to shrink or extend. This guide is to help you set things up in a LAB. In Production, you have to plan things according to Technet documentation.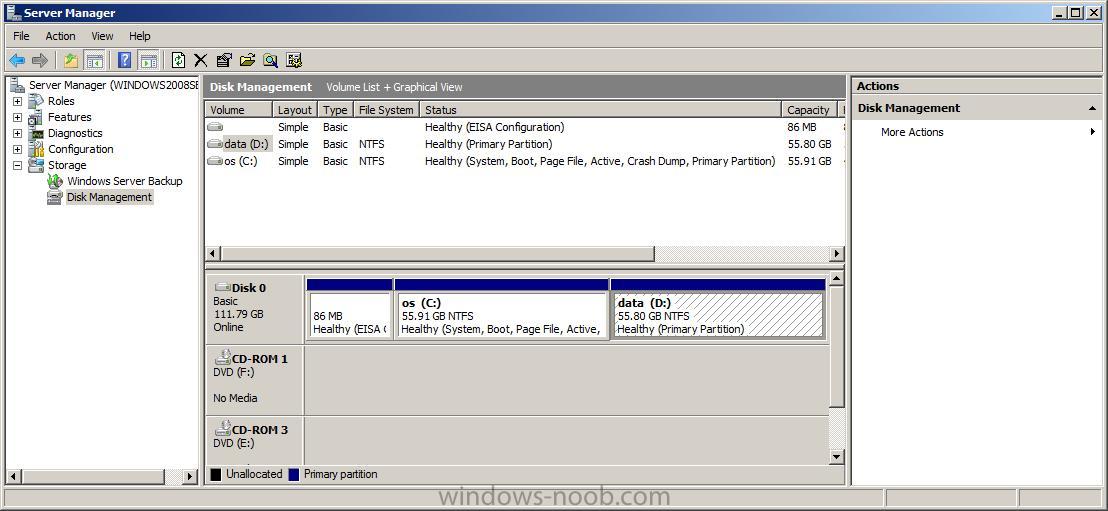 Step 1. Setup and configure active directory
Click on Start and choose
Server Manager
, scroll down to
Roles Summary
and choose
Add Roles
.
When the wizard appears click next.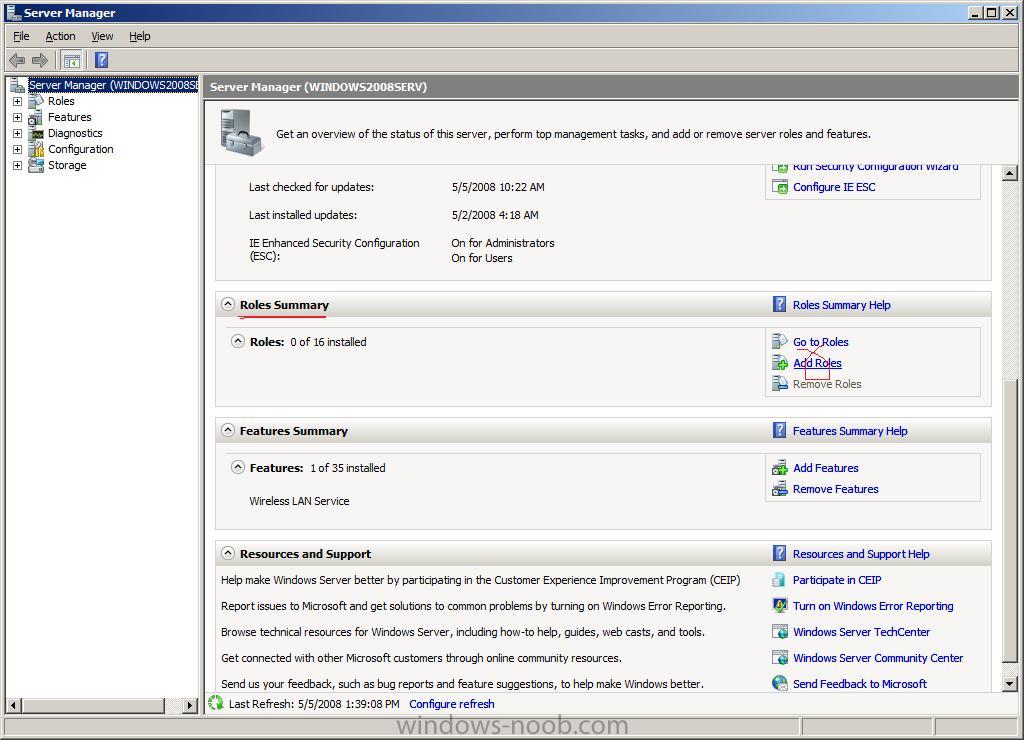 As WDS needs the folllowing:-
Active Directory Domain Services, DHCP, DNS, we will add the following role first:-
Active Directory Domain Services
We must install this role first before continuing to add the other roles, so lets select it and click on next.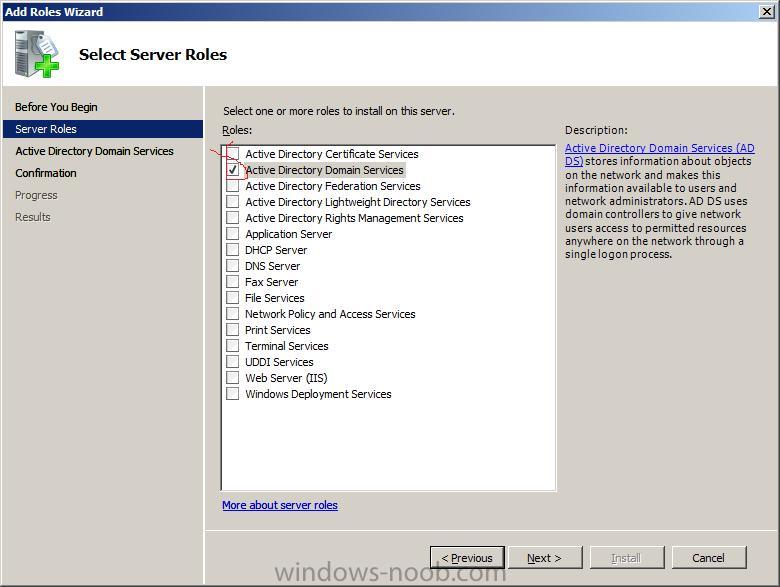 We will then be informed that installing AD requires us to run dcpromo.exe afterwards to make the server a fully functional domain controller. Click
install
to continue.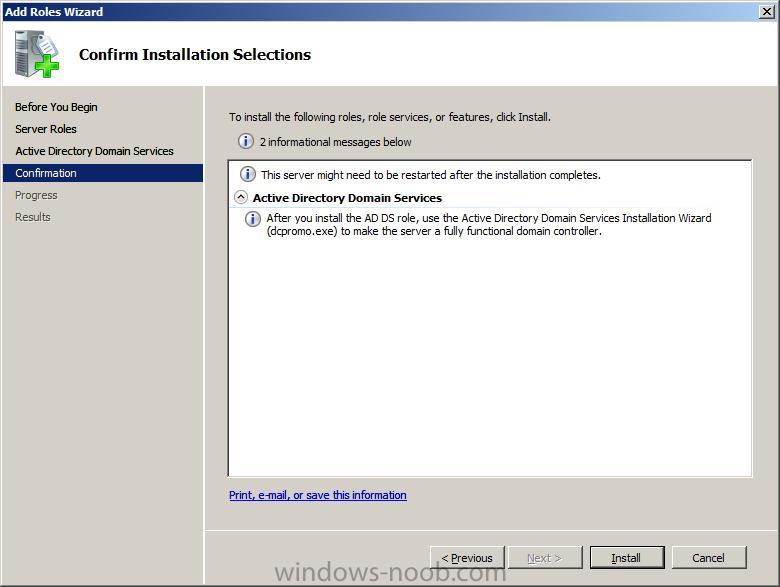 once done we'll get the success screen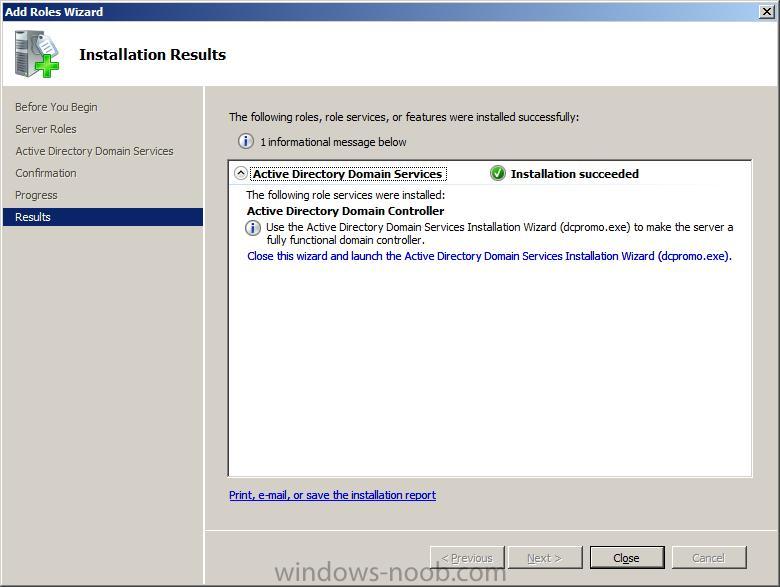 click
close
to continue
Once done the server manager will list our ADDS service with a red X beside it, click on it to run Dcpromo.exe.
This will open up the Roles section of Server manager, and we'll see a summary which says This server is not yet running as a domain controller. Run the Active Directory Domain Services Installation Wizard (dcpromo.exe).
Click on the blue text to continue.

This will start the Active Directory Domain Services Installation Wizard. Click on
next
to continue.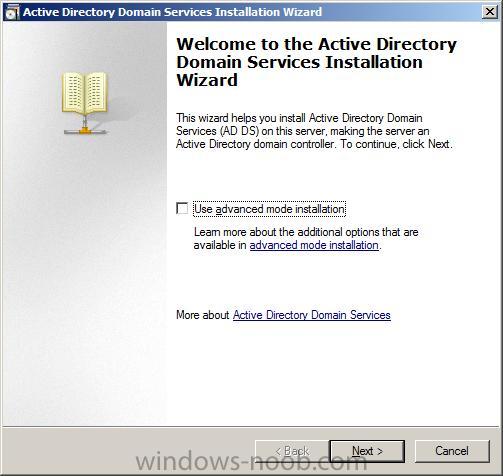 Next we will get a screen telling us that older versions of Windows (pre Vista Sp1 ....) may have problems with a bunch of things including Windows Deployment Services (for more info read
KB942564
)
Platforms impacted by this change include Windows NT 4.0, as well as non-Microsoft SMB "clients" and network-attached storage (NAS) devices that do not support stronger cryptography algorithms. Some operations on clients running versions of Windows earlier than Vista with Service Pack 1 are also impacted, including domain join operations performed by the Active Directory Migration Tool or Windows Deployment Services.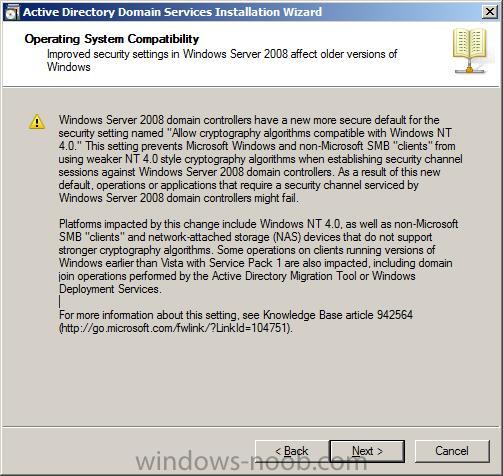 click next to continue
Now we get to choose what type of domain we will setup, and for the purpose of this lab, we will select the second option,
Create a new domain in a new forest
.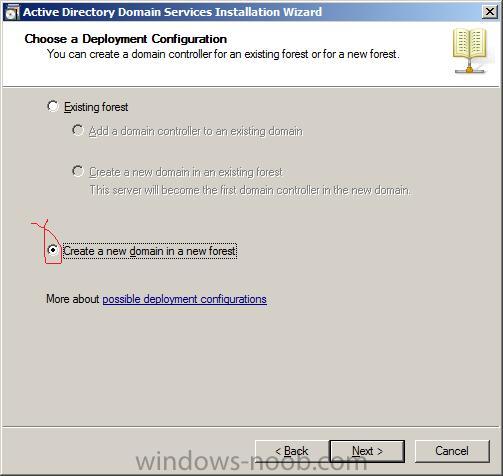 next we are prompted for the fully qualified domain name of the forest root domain (eg: corp.contoso.com)
Note: if you have not already given this server a good computername, then cancel this process and do so now. The computername will be prepended to whatever FQDN you enter, so if you enter corp.contoso.com then the FQDN of this domain controller will be AD1.corp.contoso.com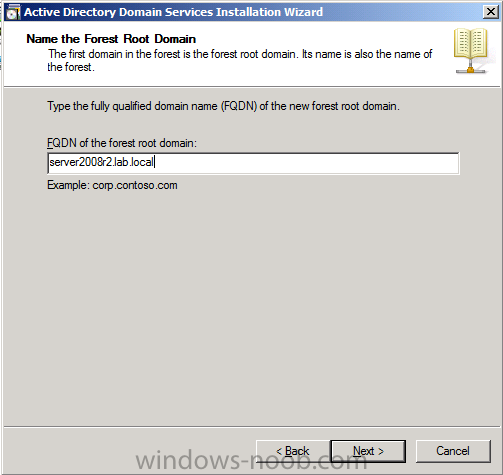 after clicking next the wizard will check the validity of the fqdn,
next we get to choose the forest functional level, click the drop down menu and select Windows Server 2008 from the three choices (Windows 2000, Windows Server 2003, Windows Server 2008).
As this is only a test lab, we are not concerned that we can only add Windows 2008 or later servers to this forest
.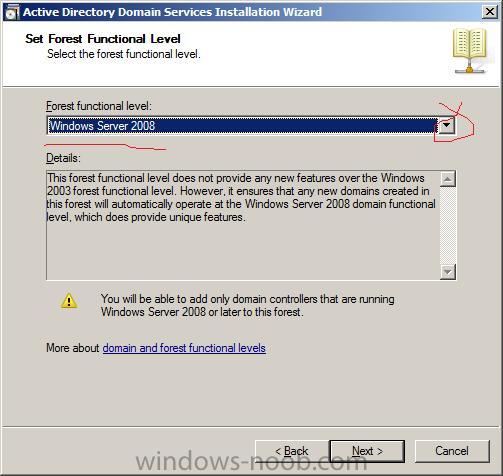 Clicking next will give some addtional options, leave them as they are (DNS Server selected) and click on Next again.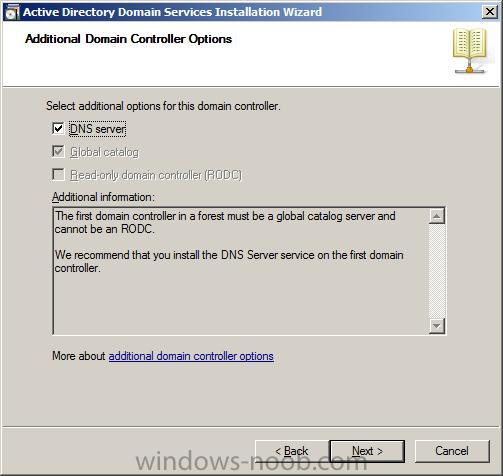 if you get a warning about dynamically assigned ip addresses ignore it (choose yes),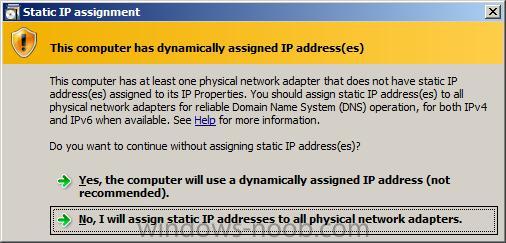 you will most likely get another DNS warning if like me you don't have a Windows DNS server in the forest. Click yes to continue.
Next we are asked where to store the AD database, logfiles and sysvol, stay with the defaults and click next.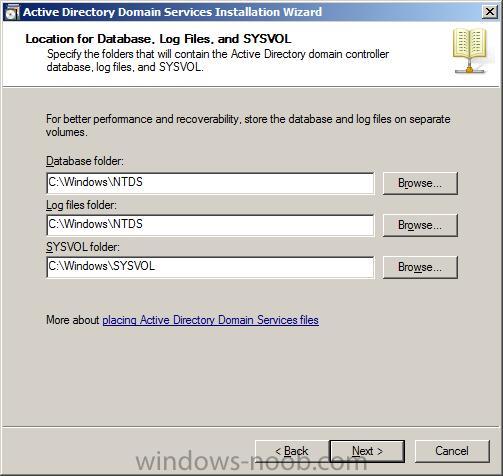 and we are then prompted to set the
Directory Services restore mode
administrator account password
finally we get a summary of our actions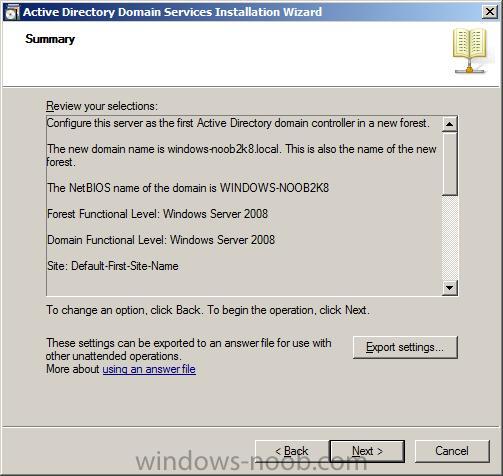 click next to get started
after a while you should see the AD wizard complete. Click Finish
you'll be prompted to restart, so please go ahead and click on
Restart Now
.